Baby B's Southern Boutique
Join our Facebook VIP group for discount codes, exclusive deals, sneak peeks, giveaways & more! (Baby B's Southern Boutique VIP)
HANDMADE With Love In St.George Utah
Thank you for suporting my small business. 
We love to see your Babe's in their Baby B's apparel! Feel free to post photos in our VIP group on Facebook or tag us on Instagram to be featured on our website! If you are interested in being a brand rep for Baby B's please join our VIP group & watch for our Rep searches! We would love to have you join our team!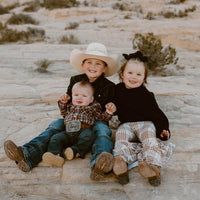 Baby B's Family
JJ 27, Mariah 25, Beckett 5 yrs Old, Bentlee 4 yrs Old & Baylor 1! Our newest little COWBOY will join our family Sept 2023!
St. George Utah